Past Events
Las Vegas' Mondays Dark to Host "Women Who Rock" Event
Benefited Dr. Gary Motykie's, The Healing Curve Breast Reconstruction Charity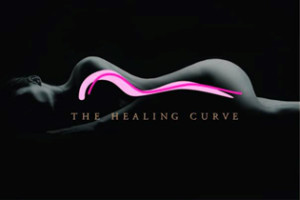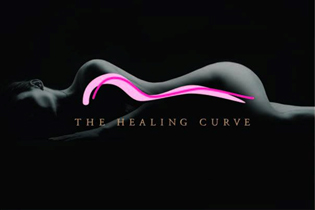 Las Vegas' Mondays Dark to Host "Women Who Rock" Event
Oct. 13 at the Hard Rock Hotel
Benefiting Dr. Gary Motykie's, The Healing Curve Breast Reconstruction Charity
Las Vegas, NV (Sept. 30, 2014) – On October 13 at 8:30 p.m. Vegas' newest tradition, "Monday's Dark" – Vegas' Night to Give Back – will continue with a night like no other, "Women Who Rock," to benefit this month's non-profit of choice, The Healing Curve Breast Cancer Charity at the Hard Rock Hotel & Casino Las Vegas.
All songs will be from performers who have rocked our world! The lineup includes:  Gretchen Bonaduce, Savannah Smith, Jason Charles Miller, Rockie Brown, Justin Mortelliti, Valerie Ojeda, Becca Kotte, Jessenia Paz, Jamie Lynch, Lisa Marie Smith, Nieve Malandra, Cheryl Daro and Larry Atello. The Rock of Ages Vegas band Arsenal will be playing for invited performers.  Tickets are $20.00 in advance and $30.00 at the door.
The Healing Curve charity was founded by Board-Certified Plastic Surgeon Gary Motykie as a non-profit initiative to help women who have beaten breast cancer but are left with breast deformity and scars as a result of the mastectomy that saved their lives.
"There are plenty of charities that are focused on 'finding the cure'," explains Dr. Motykie, "but we have found there is a real need for some patients to get back what breast cancer has stolen from them: their lives, their identity and their breasts."
Dr. Motykie's inspiration for starting the non-profit came after the flood of requests the doctor received as a result of two episodes of Dr. 90210 that showed him reconstructing the bodies – and positively affecting the lives – of breast cancer survivors. The scope of The Healing Curve has recently been expanded to help patients with birth defects, traumatic injuries from accidents, victims of poorly performed surgery and injured war veterans.
A range of fabulous Silent Auction items will invite your bids for this female empowering cause and there will be surprise celebrity guests in attendance.  Mark your calendars now for October 13th to have fun and do good.  The "Women Who Rock" event will be high-energy Vegas fun that you won't want to miss!
Monday's Dark – held on the third Monday night of each month – is a hot bed of entertainment, music and comedy for a cause gathering an eclectic cast of guests including stars from Hollywood and the Las Vegas Strip, musical acts, athletes and celebrity chefs for 90 minutes of chat, performances and laughter.  On September 8th, Monday's Dark founder, Mark Shunock received THE ANGEL AWARD from Greenspun Media. Cultural Advocate/Entertainer of the Year for his monthly events that invite Las Vegas to give back!
You can pre-purchase $20 tickets can be purchased at http://www.axs.com/events/252669/mondays-dark-with-mark-shunock-tickets?skin=vinyl or buy $30 tickets at the door. Only 300 tickets available and they are almost sold out!
For more event information, please visit: http://mondaysdark.com/ or e-mail scotmckinley@gmail.com
For more charity information, please visit www.thehealingcurve.org or email info@thehealingcurve.org
"The meaning of life is to find your gift. The purpose of lift is to give it away." –Pablo Picasso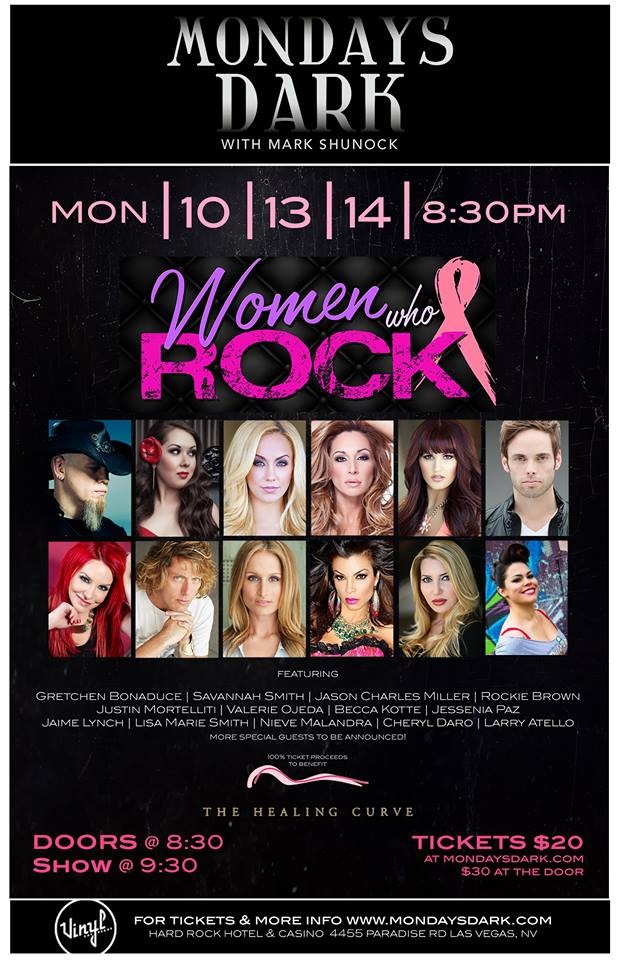 The Healing Curve Charity Concert Content: August 3, 2014
Event Recap
Jox Rox Chicago and Par fore the Cause came together in the name of THE HEALING CURVE for a summer charity event of monstrous proportions. The event took place at CD&ME in Frankfort, IL. It was an ideal setting to raise money for board certified plastic surgeon Dr. Gary Motykie's Foundation THE HEALING CURVE– which provides reconstructive surgery for breast cancer and trauma survivors. A beautiful outdoor stage was surrounded by acres of rolling fields, gardens, an incredible waterfall, and a giant fire pit. Starting at 1 pm, the event was an amazing day filled with sweet melodious tunes from several amazing bands, spectacular food from the top food wagons in Chicago, wonderful drinks from several local bars, an auction full of high demand sports memorabilia, dunk tanks, mechanical bulls, and even a giveaway for an all-inclusive trip to LAS VEGAS. The Chicago Six, a band featuring Dan Hampton, Steve "Mongo" McMichael, Otis Wilson of the Super Bowl Champion '85 Bears, along with Jim Peterik of SURVIVOR , started the day with a meet & great with fans and headlined the concert late into the evening.  Hundreds of people attended from all over the states to drink, eat, listen to music, and more importantly, support THE HEALING CURVE and all its recipients.
Thank you to everyone who took part in this amazing event. To those who took the months to put this together, the sponsors, all the bands, food trucks, volunteers, CD&ME, and most importantly all who came and gave their support to this incredible charity- THANK YOU- it is all of you who make THE HEALING CURVE possible!
Event Announcement
Nothing says Chicago like 'Da Bears,' and CD & ME is proud to host a benefit concert on Saturday, August 2, organized by Dan and Gina Hampton's charity, Par Fore the Cause, assisted by Dave Los and Jox Rox Chicago, and featuring former Chicago Bear Dan Hampton's band, Chicago 6.
The beneficiary of the concert will be The Healing Curve, a charity founded by Dr. Gary Motykie, who donates his services to provide reconstructive surgery for breast cancer survivors, war veterans, car accident victims and children born with birth defects. Dr. Motykie was inspired to start The Healing Curve after a flood of heart-wrenching fan mail sent in response to Dr. 90210, his hit show on E!, where he provided reconstructive surgery for women who had beaten cancer but whose bodies were devastated by the mastectomies that saved them.
"I am thrilled to be doing this concert for them," said Gina Hampton, president of Par Fore the Cause. "Dr. Motykie is originally from Chicago, and he has a heart of gold. We're basically raising the funds for the anesthesiologists and the office staff. Dr. Motykie donates all of his time."
Doors open at 1 p.m. and tickets provide for a day of entertainment. Bands include The Shed/341, 7th Heaven and Chicago 6 (composed of former Bears Dan Hampton, Steve McMichael and Otis Wilson, along with Eddie Kammerer, Matt Kammerer and John McFarland). Former Survivor front man Jim Peterik will close out the event with his band, Ides of March.
In addition to the nonstop musical entertainment, International Redkin Artist Leah Freeman of The Fuse in Manteno will be on hand with other Redkin staff at a Blow Dry Bar for complimentary blow outs. Each ticket holder will also receive free travel size samples of Redkin products with VIP ticket holders receiving full size product samples. Redkin's own Charlie Kennedy will be flying in to Chicago to emcee the entire benefit.
"He is amazing, fun, witty and gets the crowd going," said Hampton.
Food vendors include The Chicago Pizza Boss, The Windy City Patty Wagon, The Calle Wagon and The Husky Hog, along with a cash bar.
Premier sports memorabilia and autographed guitars will be a few of the featured items in the live and silent auctions. Gina Hampton also reports that if the event meets the fundraising goal during the evening, her husband Dan will take the seat of honor in the dunk tank. Par Fore the Cause thanks Title Event Sponsor Rich Galgano of Windy City Wire and all of the other sponsors and donors who are helping make this event happen. Corporate sponsorships are still available. Contact Hampton at parforethecause@aol.com.
Event Location & Ticket Information
Tickets range from $15 general admission to $275 all-inclusive VIP seating with Meet & Greet option. All tickets can be bought online at www.cdandme.com or at the box office, 23320 S. La Grange Road in Frankfort. Doors open at 1:00 p.m.
For more information, please call 815-469-7315